June 04, 2017. Exceeding their coaches exceptions several Acadiana YHEC youth members claimed awards at the 2017 Louisiana Youth Hunter Education Challenge. " the kids had shown improvements at practices during the spring but we didn't expect them to excel the way they did, we are very proud of all of them".
12 year old Holden Haydell lead the junior team placing Second overall in the junior division, 3rd - junior archery 270 points, 3rd place in wildlife Identification, and 2nd place in Safety trail. Cameron Bertrand followed with 5th place overall Junior, 3rd place in Muzzleloader, 2nd place in the Responsibility exam, and 1st place in Safety Trail.
Drake Lasseigne claimed 9th place overall and a 1st place award for wildlife identification. Other notable awards for the Acadiana YHEC team include Second place Overall Junior Team : Cameron Bertrand, Holden Haydell, Kennedy Jumonville, Drake Lasseigne, Peyton Lasseigne. Second place overall girl (junior) Kennedy Jumonville, Jenna Babineaux with 1st in Orienteering, John Leger with 3rd in the Senior Division safety trail.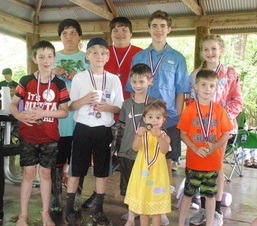 Acadiana Y.H.E.C. schedules family fishing contest
OVERTIME OUTDOORS | BY DON SHOOPMAN Mar 19, 2017_Teche Area men, women and children should have a good time when they fish an upcoming tournament next month on Lake Fausse Pointe out of Marsh Field Boat Landing. It's a tournament formatted with the family in mind, hence the name for the sixth annual Acadiana Y.H.E.C. "Take Your Family Fishing" Freshwater Tournament. The Acadiana Youth Hunter Education Club's yearly fundraising event is scheduled for April 22. read full article
---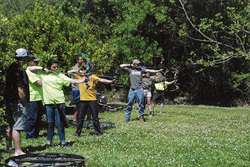 Aiming for Safety
BY VICKY BRANTON | THE DAILY IBERIAN
Jan 15, 2017.
As in any sport, learning the basics includes practice
Growing up in South Louisiana, it is common to have guns in the house. Traditions passed down from parent to child for generations may, or may not, have included a focus on safety. Now, there is so much more to the sport of hunting that safety is an important aspect of gun ownership.
read full article

---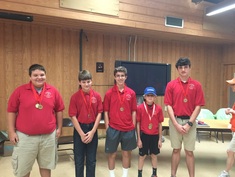 June 05, 2016. Acadiana Youth Hunter Education Club Junior Team Places 2nd in state Competition Sunday, . The Acadiana Youth Hunter Education Club's Junior Team took second place at the 2016 Louisiana Youth Hunter Education Challenge. Their second place team score of 7136 out a possible 10,000 . Pictured left to right is Drake L., Cameron B., Riley H., Holden H and Cameron J. Notable scores that ensured a second place win were: Drake L. 240 in Responsibility Exam, 240 in Rifle Event (2nd Place) and 250 in Muzzleloader Event (3rd Place). Holden H. 220 in Wildlife ID (3rd Place), Cameron B. 210 in Rifle Event, Cameron J. 242 in Archery and Riley H. 220 in Orienteering. Four of the Five young men have qualified to participate in the 2017 NRA National Youth Hunter Education Challenge schedule in July 2016
---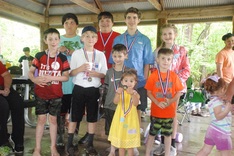 Acadiana YHEC events on tap.
OVERTIME OUTDOORS | BY DON SHOOPMAN
Apr 3, 2016
The Acadiana YHEC's 5th annual Take Your Family Fishing Freshwater Tournament is one of two fundraising events lined up for the Youth Hunter Education Club. The fishing contest is scheduled to be held April 30 at Lake Fausse Pointe State Park. Less than a month later, Acadiana YHEC officials are playing host to the 12th annual Acadiana YHEC Sporting Clay benefit to be held May 21at Ed's Sporting Goods in Kaplan. Dozens of boys and girls from across the Teche Area are members of the New Iberia-based Youth Hunter Edcuation Club. read full article
---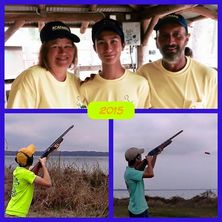 Congratulations to our AYHEC TEAM for competing at LA state YHEC competition. 16 boys & 3 girls participated in 8 events: Test, Muzzleloader, Archery, Shotgun, Orienteering, Wildlife ID, Rifle and Safety Trail. Senior, Elijah Dupré & Junior, Cameron Jumonville are headed to Nationals in New Mexico this year! Congratulations guys & a congratulations to.. our entire AYHEC TEAM for working so hard! We are proud of our kids that put forth the effort every single week to become great ethical hunters, respectable wildlife preservers, and educators of Hunter safety.
Pictured: Elijah Dupré for being an outstanding team member and leader for our kids the last 8 years. He is standing besides our amazing founding coaches who give their time and love endlessly to our kids for over 10 years, Mr. Alex and Mrs. Sandra Verret. The other two pictures are of Elijah & Cameron shooting shotgun this year. Congratulations again boys!! Represent us proudly at Nationals. Mandi Babineaux, May 31,2015 .


---

Acadiana YHEC brings back 2013 Sportsmanship Award title - Sunday, June 12, 2013 The New Iberia-based Acadiana Youth Hunter Education Club's banner weekend at the 2011 Louisiana Youth Hunter Education Challenge last weekend was capped by an unexpected but deserving award from the event at Camp Grant Walker northeast of Alexandria. "This is our second Sportsmanship award (winning first ever in 2011) We are very proud of this award as it shows that our youth members are ethical sportsman
---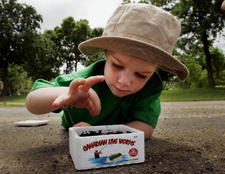 Acadiana Youth Hunter Ed Club's "Take Your Family Fishing" Tournament
|By
JayCee
June 2, 2013
I may be 'partial', but I believe that taking a kid fishing is a great way to teach about the outdoors, wildlife preservation, and (though some may call this a stretch) as a way to 'fend for yourself'. That is why I like the idea of a "take your family fishing" fishing tournament!!
The Acadiana Youth Hunter Education Club is sponsoring just that: a family
fishing tournament.
---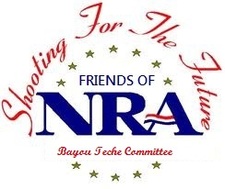 AYHEC planning Friends of NRA event for this fall
·
BY DON SHOOPMAN, The Daily Iberian Mar 10, 2013
.
There are several good reasons the Teche Area's Youth Hunter Education Club programs are so successful each year in state competition at Woodworth.
One of them is the National Rifle Association. The New Iberia-based Acadiana Youth Hunter Education Club plans to honor that powerful group, which funds the programs though grants to various agencies, and take advantage of an opportunity to raise more funds for YHEC
read full article
---

---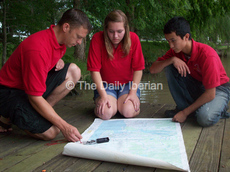 ---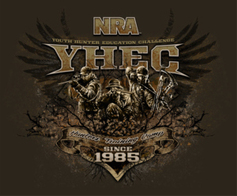 ---
Five eye YHEC titles -
Daily Iberian -Sunday, July 17 2011... Five young outdoorsmen from the Teche Area's two Youth Hunter Education Club organizations have their sights set on competing against more than 300 of the
nation's most talented and skilled outdoorsmen July 24-29 in Raton, N.M.. The Acadiana YHEC's Elijah Dupree of Charenton and Alex Aucoin of Jeanerette, all competing in the junior classification, and the Jeanerette Junior Hunter Education Club's Trintan Beard of New Iberia, James Tafoya of Charenton and Grant Darden of Charenton, all competing in the senior classification, qualified for the 2011 National Rifle Association Youth Hunter Education Challenge at the NRA Whittington Center.
read full article
---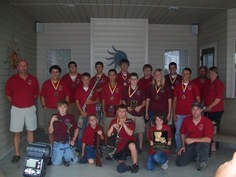 ---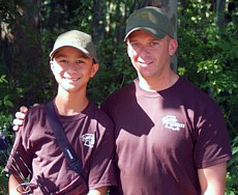 ---
---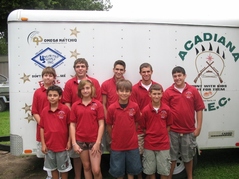 Te
sting their skills- Daily IBerian
Monday, July 23, 2007 12:00 am Testing their skills and knowledge against the best young hunters in the country, six Teche Area residents are competing in the NRA's International Youth Hunter Education Challenge this week at the NRA Whittington Center in Raton, New Mexico
---